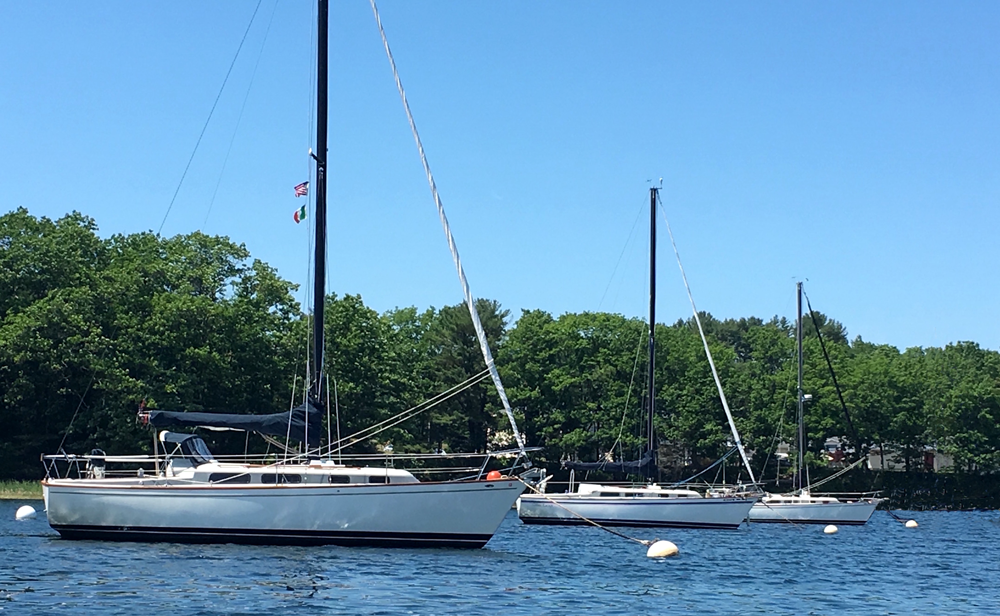 Seeing Triple
Ariche, Great Escape and North Star - Saco River, Maine
by Paul McDonough

Welcome Letter
Welcome aboard your Pearson 323! We are proud to have you join the thousands of other Pearson owners and hope you will find your owners guide helpful and informative.
Your decision is a source of great satisfaction to us*, and we are confident your new boat will provide the same for you. By selecting a Pearson, you have expressed a confidence in the brand. You can rest assured that [Pearson Yachts Inc, in their day], had made every effort to support your trust.
Every Pearson Yacht has been manufactured by dedicated professionals and craftsmen of the finest materials available at their time of production. The owners manual is intended to guide you through your first days of ownership of your Pearson Yacht. She asks only that you treat her as one of the family, and she will return all you can ask of her and more. Individual instruction manuals from the manufacturers of installed equipment may also be needed where more detailed information is required.
Before getting underway, please take a few moments to familiarize yourself with the operations and functions of the various systems designed into the 323 to insure proper operation. In the event that additional information is needed, we suggest you post your questions to the "Captains Forum" for advise from other Pearson owners.
Please accept our congratulations. Have fun and smooth sailing!