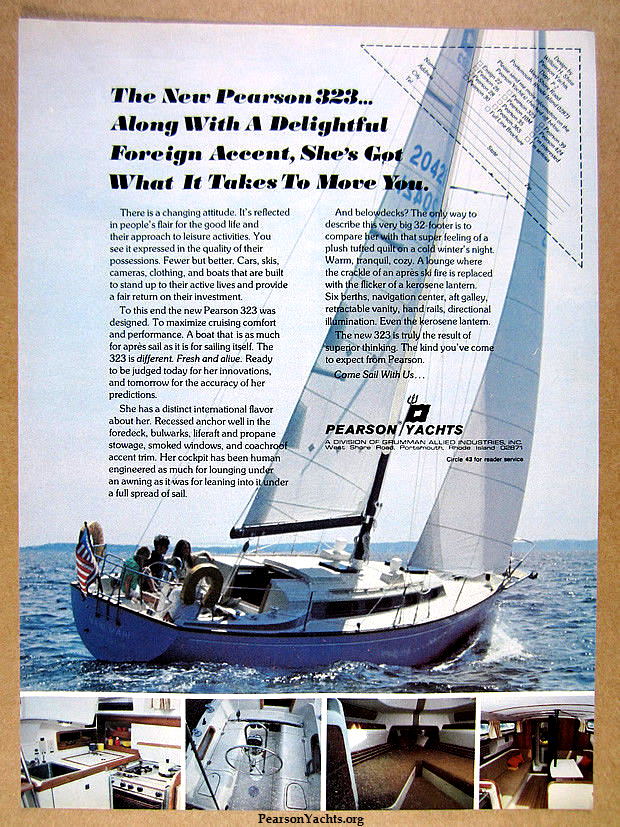 Pearson Yachts Inc. - Circa 1977
The New Pearson 323...
Along with a delightful foreign accent, she's got what it takes to move you.
There is a changing attitude. It's reflected in people's flair for the good life and their approach to leisure activities. You see it expressed in the quality of their possessions. Fewer but better. Cars, skis, cameras, clothing, and boats that are built to stand up to their active lives and provide a fair return on their investment.
To this end the new Pearson 323 was designed to maximize cruising comfort and performance. A boat that is as much for après sail as it is for sailing itself. The 323 is different. Fresh and alive. Ready to be judged today for her innovations, and tomorrow for the accuracy of her predictions.
She has a distinct international flavor about her. Recessed anchor well in the foredeck, bulwarks, liferaft and propane stowage, smoked windows, and coachroof accent trim. Her cockpit has been human engineered as much for lounging under an awning as it was for leaning into it under a full spread of sail.
And belowdecks? The only way to describe this very big 32-footer is to compare her with that super feeling of a plush tufted quilt on a cold winter's night. Warm, tranquil, cosy. A lounge where the crackle of an après ski fire is replaced with the flicker of a kerosene lantern. Six berths, navigation center, aft galley, retractable vanity, hand rails, directional illumination. Even the kerosene lantern.
The new 323 is truly the result of superior thinking. The kind you've come to expect from Pearson
Come Sail With Us...